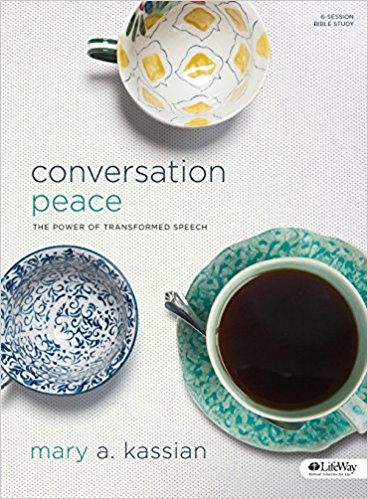 Conversation Peace – Watch your Tongue – A Bible Study Review
Conversation Peace -The Power of Transformed Speech
• Author: Mary A. Kassain
• Publisher: Lifeway Press,  reprinted 2015, 192 pages
• Category: Bible Study, Women
• ISBN: 978-143-0038-801
•  Reviewer: Taresa Lutz – Standingfirmproducts.com
Why this book?
Some of my family and friends had just completed a Bible Study the first half of the summer last year and wanted to do another study and it was suggested that it should be something on Communication…(how to communicate with our spouses Biblically)!
Okay, challenge on…I went shopping to find a Book/Bible Study and I narrowed my search down to three.  There were really several that looked promising but after sending the link to them to 3 of the group, we decided on this one.   I really wasn't familiar with this author, but the Table of Contents, the endorsements, and the way the lessons were laid out looked good.
Something Mary says in the Welcome page to this book, really hit home!  'At their deepest root, communication problems are spiritual problems.  As such they require spiritual solutions and, for that, we must turn to God.  This study presents powerful speech-transforming elements that are based on the Bible.  For the final word on how to transform our words, the Bible is our book!'
Amen!
About the Author – Mary A. Kassian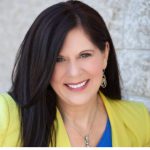 Mary Kassian is an award-winning author, and a distinguished professor of women's studies at the Southern Baptist Theological Seminary.  She has published several books, Bible Studies, and videos including Girls Gone Wise, In My Father's House: Finding Your Heart's True Home, and True Woman 101 and 201.
The Layout of the Study
The study is interactive.  It challenges discussion.  There are six chapters with six weeks of daily study materials.  Okay yes, homework!  The truth is if you really, really want to get something out of a Bible Study that is long-lasting, there must be homework!  You have to spend time studying alone, with time to ponder and meditate on what is being taught.  This is true of God's Word and any study related to it!
There are six chapters with each chapter containing:
Daily Lessons – geared to take about 20 minutes and to help you 'harness the power of a speech-transforming element'
Tongue Tonic – little notes to help you increase or restore the health of your speech
Word from the Word – In depth study of particular words from the Bible
Quips and Quotes – Profound, witty and wise quotes from historical and religious persons to inspire and challenge
Breath Freshener – Memorization of a Scripture verses each week to tuck away for future recall
The Chapters: All begin with a key scripture which you should have memorized during your week of study
The Power of Navigation – This chapter is remarkable!  It talks about sailing and how James 3:4 likens your tongue to the rudder of a ship.  Your tongue navigates your ship!  Have you ever thought about that?  This chapter takes you deeper into where James was going with this concept.   Just like a rudder, we see how our tongues turn our lives in the direction we will go!  (Boy I was already   convicted after chapter one!)  The word for the week is Communicate. The Greek word for communicate is koinonia, which means to share, partake, have fellowship with, to join together.  Communication should be more about the interest of the other person rather than self-focused.  It is to be a 'sharing'.   Take the focus of the 'I' and place it on the 'U' in the word communicate.  Each week ends with 'Talk it out'.  Discussion time to share our thoughts and what we got from the lesson.
The Power of Cause and Effect – This chapter emphasizes that the words we speak are connected to what lies in our hearts. In Matthew 12:34 Jesus asks the Pharisees, 'How can you who are evil say anything good?  For the mouth speaks what the heart is full of'.  In order to improve your words you need to improve your heart!  Mary talks about a plant and how the foliage is above the ground and is observable like us with our words and tone and volume of our voice,our posture, facial expressions, and other body language.  The third factor is the root and the soil it is planted in.  The soil represents our deepest beliefs and values.   This chapter takes us deeper into this concept and the word for the week is devil  – the deceiving accuser  Devil is derived from the Greek word diabolos.  The diabolos is the one who makes malicious false statements; a false accuser; a slanderer.  In Contrast, God's words are True.  Truth is characteristic of Christ; deceit of Satan.  When we speak we follow the example of one or the other!
The Power of Exchange – This chapter takes us further into the cleanup started in Week 2 and what to fill the empty spot where the weeds and toxic soil lived before.  We must transform our hearts into welcoming, cultivated places of beauty.  We go deep into how to 'put off the old, and put on the new'.  We learn about echoing what we are hearing from the person we are communicating with, to be sure we are understanding what they are saying.  We discuss how God forgave us and how we are to do the same to others.  'Our ability to give good to others springs from the abundance of good we receive from God.'  This week's word is grace.  The Greek word for grace is charis from which we derive the word charity.  The grace of God is the unmerited love and favor of God toward humanity.  We don't deserve it, we cannot earn it, and we can never repay Him for his grace.
The Power of the Open Gate – This chapter too is so good.  Mary begins with a discussion of the high tower of Babel. The Greeks named it Borsippa, which literally means 'Tongue-Tower'.  We know it as the tower of Babel.  A high place represents 'a prideful attitude that sets itself up above others'.  And that was the problem at Babel.  Constructive, healthful communication only happens through the open door of a humble heart.  This week we talk about why we battle.  We talk about the word 'peace'.  Peace is the absence of inner strife; a state of untroubled, undisturbed well-being; a tranquil spirit; harmony with another, Jesus is called the 'Prince of Peace'.  This is only a brief look into this week.  A week of very important lessons.  Very much worth the study.
The Power of Construction – Ephesians 4:29 is the memory verse for this week.  It says "Do not let any unwholesome talk come out of your mouths, but only what is helpful for building others up according to their needs, that it may benefit those who listen.'  Mary begins this week with a discussion about 'tracks', 'railroad tracks'.  She says 'your words can lay tracks that cross barriers, connect people, and create harmony and unity in your relationships.   Do you believe that God is giving you the power to build something new?'  She goes on to teach us how we can lay tracks of encouragement, faithfulness, honesty, tenderheartedness, and discretion.  So much more is covered in just how to do this in this insightful chapter.
The Power of Instruction – The final week challenges us to enroll in God's School of Speech Arts and become lifetime learners. We are imperfect and we are being made perfect.  Mary talks about Paul and how he told us to 'press on'.  That our being made perfect would not be complete until we get to heaven.  We all fall short of God's perfection.  We are all candidates for lifelong speech reform.  We should study the Word and keep it very near to our mouth and our hearts that we may observe it!  Moses told the Israelites this in Deuteronomy 30:11-14.   It is still so true today.
In Summary – This is an amazing study and so full of Spiritual guidance that I wish I could give the book to all the people I know so that they could study and learn from it.  First and foremost I wish to say that what makes this Bible study so good is that it speaks the Truth from the Word of God.   I highly recommend this study.  I give it 5 stars!
Note: Clicking on the picture of the book above will take you to a site where you may purchase the book. If you buy from this link we will receive a small commission. See our Affiliate Disclosure in the footer of this page.
Please note that by submitting a comment you are also consenting to us storing your info from this submittal in our records. We will not furnish this information to any third parties. It is just stored in case we need to contact you.
Please leave a comment below. We welcome your thoughts!  Have a blessed day!