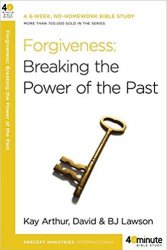 Forgiveness: Breaking the Power of the Past – Is it Possible?
Do you carry grudges, pain from old hurts, pain from recent hurts?
This is a review of this 6 week, no-homework bible study.  My husband and I facilitated this study last summer (2017) with a group of family and friends..  Many in the group had been dealing with or had known someone dealing with being able to forgive someone who had hurt them in some way. In some cases the hurt was old, and had been carried for many years.  In others it was more recent.  In some cases the hurt had been discussed and supposedly forgiven and forgotten.   In others it had never even been discussed.   Just held inside to crop up when least expected.    Lack of forgiveness has destroyed countless relationships.
Having facilitated a number of these Kay Arthur, 40 Minute Bible Studies, we decided to gather together each week for six weeks and to really delve into what Kay and the Scripture had to say about this subject, Forgiveness.
This study was written by Kay Arthur, and David and BJ Lawson and is one of the Precept Ministries International publications.
The Subject of Forgiveness touches all of us – Questions arise
How can I forgive when the pain is so great?
What about revenge? If I forgive them are they then 'getting away with it'?
What if I don't forgive?
Can I be forgiven for things I did in the past?
Does forgiving mean forgetting?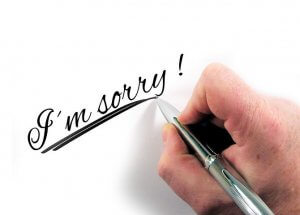 Week One – Amazing Forgiveness – Taking a look at the Life of Joseph
Are you familiar with the life of Joseph?   This first weeks takes a look at what happened to Joseph in Genesis 37, Genesis 42, 45 and 50.  Joseph was loved most by his father, Isaac, and his brothers were extremely jealous of him.  They hated him.  His father, Israel (aka Jacob), made a varicolored tunic for him.  Joseph had a dream and told it to his brothers and they hated him even more.  The dream was that his brothers and his father would 'bow to him' in the future.  He told his father the dream and his father rebuked him but said he would keep his dream in his mind.
The brothers, (most of them), plotted to kill Joseph.   They threw him into a pit and took his coat back to his father and told him that Joseph had been devoured by a wild beast.  Joseph was rescued when a caravan of Ishmaelites came through and Judah said lets sell him to the Ishmaelites.  So they sold him for 20 shekels of silver!  Joseph was taken into Egypt by the Ismaelites.
Not to go into all the rest of Joseph's life, here, but you should read it!  Joseph became a powerful servant of the Pharaoh of Egypt and had a storehouse full of grain, and when famine came to Egypt people from all around came to Joseph for grain.  Joseph's brothers were sent there by their father to secure grain for the family and Joseph recognized them.   They didn't recognize him.  He revealed that he was their brother and he made them go back and bring their father and their youngest brother, Benjamin, back with them.
Joseph had long ago, already forgiven them in his heart, and he told them to come there and he would provide for them and for their father.
In Genesis 45:5 Joseph told them 'Do not be grieved or angry with yourselves, because you sold me here, for God sent me before you to preserve life.'  The brothers went back for their father, but their father died, and they were afraid that Joseph would be angry and take it out on them.
In Genesis 50: 19-20, Joseph said to them 'Do not be afraid, for am I in God's place?  As for you, you meant evil against me, but God meant it for good in order to bring about this present result, to preserve many people alive.'
The amazing story of Joseph's forgiveness after what his brothers had done to him was a great way to start week one!
Week Two – Why is Forgiveness Necessary?
We begin week two with the Sermon on the Mount, and Matthew 6:9-13.  Kay has us marking the words forgive, forgiveness, debts, and debtors.  As we do this we see how many times Jesus mentions these words in this Scripture.  Matthew 6 covers the Lord's example prayer, the Lord's prayer.  Matthew 6:12 says 'And forgive us our debts, as we also have forgiven our debtors.'  The gist of the further study of this Scripture is that 'forgive and forgiven' go hand in hand.   You must forgive to be forgiven. Debt in this context is 'an unfulfilled duty' and sins are 'debts to God'.  This is not financial debts.
In Matthew 6:14-15, Jesus says 'For if you forgive others for their transgressions, your heavenly Father will also forgive you.  But if you do not forgive others, then your Father will not forgive your transgressions.'
Week two brings other Scriptures to light which clarify and emphasize these Scriptures.  Kay points us to Ephesians 4:0-32 where we are told 'to let all bitterness and wrath and anger and clamor and slander be put away from you, along with all malice.  Be kind to one another, tender-hearted, forgiving each other, just as God in Christ also has forgiven you.'
The Scripture assignments and the discussions in this study are excellent and really help you to understand God's Word and the intent of the Scriptures.   Kay Arthur is excellent at taking you through the Scripture (Observing) and then helping you to interpret it.
Week Three – The Forgiveness God Extends to Us and Our Responsibility to Others
Week three begins with Romans 3:9-12, 23 where Paul is writing to believers in Rome explaining the key truths of the gospel (including himself).  In this chapter we delve into sin, and who are sinners and what the result of sin is.  Why Mary had to be a virgin and why Jesus had to become sin on our behalf so that we might become the righteousness of God in Him.  We study about reconciliation and what it means to be reconciled to God.
God appeases Himself, supplying what is necessary to reconcile to Him: His Son's blood for forgiveness of our sins.  We discuss what it means to be an Ambassador of Christ.
We are to carry His message of reconciliation to others.  If we don't forgive, we are NOT carrying the message!  Kay goes much deeper into the Scriptures and understand that we are responsible for our sin.  We need to deal with it and receive God's forgiveness.   If we ignore it, make excuses and continue to sin, we will receive God's judgment.  To refuse to believe you are forgiven is to turn your back on the love of God.
Once you accept God's forgiveness, you have the foundation to forgive others and to walk in true freedom.
Week Four – How Do We Forgive Horrible Offenses Against Us?
Week Four takes us to Galations 5:19-21, Ephesians 5:3-6, and 1 Corinthias 6:9-11.  Paul tells us of our many deeds of the flesh, and warns us that those 'practice such things will not inherit the kingdom of God.'  These Scriptures emphasize this over and over again.   He talks about the inheritance of the kingdom of God.  We cannot inherit the kingdom if we do not believe in Christ, change our lives and follow Him.
God's forgiveness through His Son gives us Eternal Life and allows us the inheritance of the Kingdom.
If those who have hurt us through their sin repent, God will allow them into heaven and if they don't, God will deal with them.  Our responsibility is to forgive.
As believers in Christ, we have died with him to our sin and we are to look like Him.  He forgave us and we are to forgie others.  Anger, wrath, malice, slander, abusive speech, are not Godly behaviors.  We must measure our standard of forgiveness by the standard of God.  Just as He forgives us, we are to forgive others.
Forgiveness is a choice, not an emotion.  Your forgiveness of others does not let them off the hook with God.
Week Five – How do I know if I have truly forgiven someone?
Week Five begins with Luke 7:36-39.  This is where Jesus came to dinner and the woman from the city broke the alabastar jar of perfume and began washing Jesus' feet with her tears, and anointing his feet with the perfume.   The Pharisee who also attended the dinner, didn't think Jesus was a prophet because He let the woman touch Him in this way.  Kay goes on to explain who Pharisees were and what they believed and how they behaved.
She then takes us to Luke 7:40-48 where Jesus tells the story about the moneylender and the two debtors and the forgiveness of their debts by the moneylender and which of them would love the moneylender more?  Jesus then explains the love of the woman who washed His feet and in Luke 7:46-48 He says, 'You did not anoint My head with oil, but she anointed My feet with perfume.  For this reason I say to you her sins, which are many, have been forgiven, for she loved much; but he who is forgiven little, loves little.  Then He said to her, 'Your sins have been forgiven."
Kay goes on to show us through Scripture how bearing with one another means to put up with one another.  Grudges have no place in the body of Christ.  They lead to anger, wrath, malice, slander, abusive speech and lying.  We have already been instructed to put these sins aside!
To what extent did the Lord forgive?   To the point of death on the cross!
Love is an action verb.  As 'imitators' of God, you are to 'walk in love, just as Christ also loved you, and gave Himself up for us, an offering and a sacrifice to God as a fragrant aroma'  (Ephesians 5:1-2).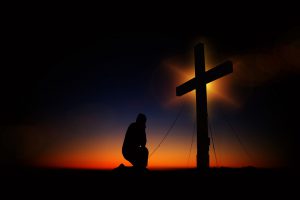 Week Six – Final Steps to Unleash the Power of Forgiveness in our Lives
The final week begins in John 5:1-9.  This is the scene at the Pool of Bethesda where Jesus tells the man who had been unable to walk for 38 years to pick up his pallet and walk.  Then we move to Ephesians 4:31-32 where we see the Scriptures again about putting away bitterness and wrath, etc. and to be kind to one another, tender-hearted and forgiving each other, just as God in Christ also has forgiven us.
Kay takes to several other Scriptures wich reiterate that our hearts need to be clean, that God knows our hearts and we need to ask Him to take the hurtful ways from us.  We are to forget what lies behind and reach forward to what lies ahead.
I will not go into all the details but suffice it to say that this little book of 88 pages which we covered in six weeks holds a huge amount of Truth in it and is well worth the time and effort to study it.   I highly recommend that you do and that you recommend it to others who are dealing with forgiveness issues and pain from the past!
Please leave a comment below. We welcome your thoughts!  Have a blessed day!
Please note that by submitting a comment you are also consenting to us storing your info from this submittal in our records. We will not furnish this information to any third parties. It is just stored in case we need to contact you.
Clicking on the link to this book will take you to a site where you may purchase the books.  If you purchase from the links we may receive a small commission.