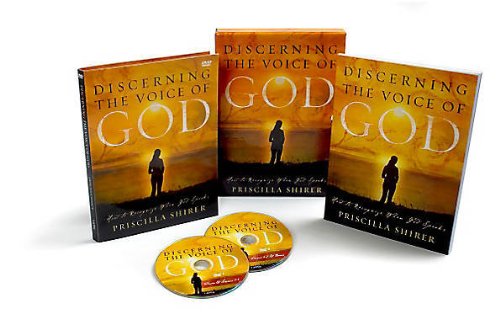 Discerning the Voice of God – Bible Study and Book Review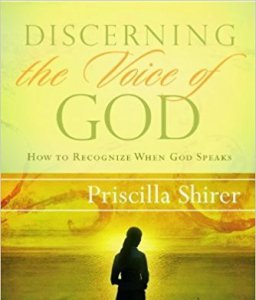 Book/Bible Study Review Details:
Title: Discerning the Voice of God – How to Recognize When God is Speaks
Author: Priscilla Shirer

Publisher: Lifeway Press, 2006
Category: Christian Living, Women, Spiritual Growth
Reviewed By: Taresa Lutz, Christian blogger, Believer in Jesus Christ  (http://www.standingfirmproducts.com)
Recommended? Yes
There are several versions of this book.  Priscilla keeps updating it every few years.  As time passes she grows and learns in her walk with him, she finds it necessary to revise her book to reflect new stories, new wisdom and add new exercises to the book.  There is a 2012 version which includes Chapter Challenges that help you hear His voice more clearly.  A new 2017 version was recently released.  I haven't looked at it yet.
The first time I led the Bible Study we were using the 2006 Publication from Lifeway pictured above which was reprinted in 2015.)   We also used videos which were available online for download.  The second time I led the Bible Study I used this same book, but also backed it up with the 2012 Book version pictured to here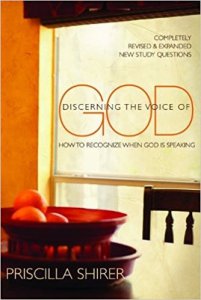 Who is this author? 

Priscilla Shirer is an Internationally recognized Bible Teacher.  She has authored a number of books and Bible Studies individually, and accompanied by Beth Moore and one with Beth Moore and Kay Arthur: Fervent, The Resolution for Women, A Jewel in His Crown, And We Are Changed, He Speaks to Me.  Priscilla holds a Master's Degree in Biblical studies from Dallas Theological Seminary.  She and her husband, Jerry, lead Going Beyond Ministries.  (And by the way, she is one of the well known Tony Evans' daughters!)
I have used the two books together in my Bible Studies and they both contain similar information, but the 2012 publication at the top of this review, contains even more insight enhancing the 2006 version.
The Bible Study from 2006 (Lifeway Publication) reviewed below consists of 4 Sections and is geared for a 6 week study.  As mentioned above, there are videos and also a leader's kit available for this one.  There is a lesson for 5 days of each week.
The 2012 version is called a Book with 'Chaper Challenges' at the end of each Chapter.  There are three sections to the book and 14 Chapters.  It is worth reading and using side by side with this study.
The Bible Study Review – DIscerning the Voice of God (published 2006)
Week One – Anticipating the Voice of God
Expect to Hear It – Do you appoach God NOT expecting to hear from Him?
Wait Patiently for It – The process of waiting for a message from God is as important as the message itself
Plan to Obey It – Are you willing to obey what you hear God saying to you?  This is key to hearing His still small voice.
Listen For It – We must take time to purposefully listen for God's voice through Prayer, Meditation on His Word and Worship
Have Faith In It – Faith in His Word is necessary to hear from God
There was much Truth taught in this Week One lesson.  Priscilla backs up these key statements with Scripture from Deuteronomy 5:31, Micah 7:7, Psalm 27:14, Habakkuk1, Habakkuk 2:3 and more.   She includes quotes from other well known Christian authors such as A. W. Tozer and Bob Sorge.
I particularly love this quote from Bob Sorge: 'Things don't change when I talk to God; things change when God talks to me!'
Week Two – The Holy Spirit
The Miracle of the Holy Spirit – Old Testament believers had to count on external means to hear God because they didn't have continuous access to the Holy Spirit.  When Jesus left and sent us the Holy Spirit as a Helper who is with us 24 x 7 to guide those who believe.  We have direct, personal access to God!
The Conscience and the Holy Spirit – The conscience helps direct your choices, but the conscience can be swayed.  The Holy Spirit does not lead you astray.  If what you are hearing is telling you to do something that is against the God's  Word in the Scriptures then it is not coming from the Holy Spirit.
The Guidance of the Holy Spirit – Let the Holy Spirit lead you.  Focus on  the Holy Spirit as your Control Tower.
Transformed by the Holy Spirit – When we accept Christ, our spirits have been saved but our souls are a work in progress?  The Holy Spirit works on that transformation for the rest of our days on this earth.
Led by the Holy Spirit – The Holy Spirit will lead us and show us God's will if we will allow Him to do so.  We have to commit time to His Word, Prayer, Quiet Time with Him, drawing near so that He may speak to us.
Week Three – The Voice of the Holy Spirit
Persistent – He is persistently giving us changes to know Him and have a close relationship with Him. Revelation 3:20: I stand at the door and knock; if anyone hears My voice and opens the door, I will come in to him and will dine with him, and he with Me
Personal – The Holy Spirit leads me personally and individually.  The Holy Spirit will call us by name, as He does to His followers in Scripture.
Peaceful – The Lord desires unity and mutual edification within the body of Christ.  Scripture urges us in Ephesians 4:3, NLT, for example, to keep ourselves 'united in the Holy Spirit and bind ourselves together with peace.' (in Truth).
Verifiable –  Anything God's Spirit reveals to you will always match up with His Scripture.
Authoritative – God's Word comes with authority.  When Jesus spoke to the men in Luke 24, the hearts began to burn.  His words carried an authority and weight that rang in their hears and amazed them.
In Summary: Week three reveals that it is EASY to know HIS voice when you KNOW HIM.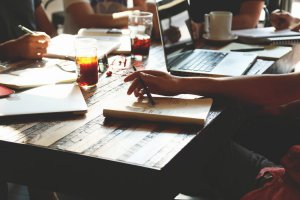 Week Four – God's Voice Reveals His Character
God Revealing – John 16:14, NLT: The Holy Spirit will bring Me glory by revealing to you whatever he receives from Me.  When we know God, we will know His direction.  When the enemy speaks to you he will distort the character and the Word of God.  Anything that doesn't reflect the character of God is not a message from Him!
Loving – God loves us.   He does not condemn us.  There is no condemnation for those who are in Christ Jesus.  John 8:11: Jesus said, 'I do not condemn you, either.  Go. From now on sin no more.'
Peaceful – He speaks: 'These things I have spoken to you that in me you may have peace.' John 16:33.  Let the peace of Christ rule in your hearts.  Throughout Scripture God indicates His desire for our peace.
Truthful – The Spirit of Truth, the Holy Spirit, guides you into all Truth.  John 16:13: When He, the Spirit of truth, comes, He will guide you into all the truth; for He will not speak on His own initiative, but whatever He hears, He will speak and He will disclose to you what is to come.'
Powerful – Psalm 29:3-4 'The voice of the Lord echoes above the sea.  The God of glory thunders.  The Lord thunders above the might sea. The voice of the Lord is powerful; the voice of the Lord is full of majesty.'
Week Five – God's Voice Reveals His Plan
God's Purposeful Voice – John 7:17, NLT: 'Anyone who wants to do the will of God will know (it).'  God equips us to complete His planned works for us, which have been planned beforehand.   We cannot do this without Him.  If we walk in His plan for our lives, He will protect us.
God's Invitational Voice – John 1:43: Jesus said to Him, 'Follow Me.'   When we ask Him to open our eyes to see His activity in our lives, He will reveal what He is doing and what His plan is. Jesus did nothing unless it was His Father's will!  Ask God to open your eyes to what He is up to and then join Him in it.
God's Timely Voice – When God speaks it will be in His perfect time and to accomplish His will, not ours!  Wait on God.
God's Challenging Voice – His Words will challenge us to step outside our comfort zone and do something we would normally not do, for HIM!  It will be something to glorify HIM not us.
God's Interconnected Voice – The Church is the body of Christ.  We are members of the body of Christ.  Each part of the body, just like each part of our individual bodies, has a purpose.  Hebrews 10:24-25 says 'Let us consider how to stimulate one another to love and good deed, not forsaking our own assembling together, as is the habit of some, but encouraging one another, and all the more as you see the day drawing near.'  God can and will speak through His body!   If He calls you He will equip you.
Responding to God's Voice
The Only Appropriate Response I – God's doesn't speak just to be heard.  He speaks to be obeyed.  Hearing Him without obeying Him will bring judgment.  Make a habit of doing whatever He tells you, regardless of your own feelings.
The Only Appropriate Response II – 2 Chronicles 20:17-24:  The cost of obedience to stand and trust and obey.  The result, the enemy was destroyed!  Had they not obeyed, they wouldn't have defeated the enemy.
The Costly Response – Prepare for the adjustments God requires. Adjust appropriately to respond to God. 
The Immediate Response – God's timing is perfect.  Our response should be immediate.  Jeremiah 7:23, NLT: 'Obey me, and I will be your God, and you will be my people.  Only do as I say and all will be well.'
The Committed Response – Isaiah 50:5b, 7, NLT: 'Therefore, I have set my face like a stone, determined to do his will. And I know that I will triumph.'
In Summary:
My review has taken you through key parts of each of the day's and week's lessons in this Bible Study.  There is a lot more 'meat' in the study for you to read and study for yourselves.  I highly recommend this study.  Gather a small group of women and someone to facilitate it for you and go for it!  You will be amazed at what you will 'discern' from this study.
Click on the pictures of the books to go to a site where you can purchase the book.  If you purchase from the link we may receive a small commission.
Please leave a comment below. We welcome your thoughts! 
Please note that by submitting a comment you are also consenting for us to store your info from this submittal in our records. We will not furnish this information to any third parties. It is just stored in case we need to contact you.
Blessings to you all.   To God be the Glory!