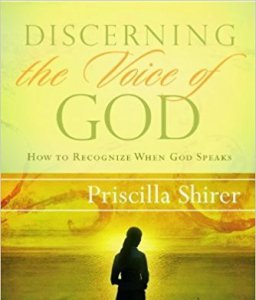 Book/Bible Study Review Details:
Title: Discerning the Voice of God – How to Recognize When God is Speaks
Author: Priscilla Shirer

Publisher: Lifeway Press, 2006
Category: Christian Living, Women, Spiritual Growth
Reviewed By: Taresa Lutz, Christian blogger, Believer in Jesus Christ  (http://www.standingfirmproducts.com)
Recommended? Yes
There are several versions of this book.  Priscilla keeps updating it every few years.  As time passes she grows and learns in her walk with him, she finds it necessary to revise her book to reflect new stories, new wisdom and add new exercises to the book.  There is a 2012 version which includes Chapter Challenges that help you hear His voice more clearly.  A new 2017 version was recently released.  I haven't looked at it yet.
The first time I led the Bible Study we were using the 2006 Publication from Lifeway pictured above which was reprinted in 2015.)   We also used videos which were available online for download.  The second time I led the Bible Study I used this same book, but also backed it up with the 2012 Book version pictured to here