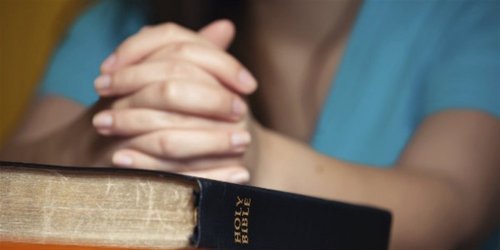 Does God Hear Prayers or Does God Answer Prayers?
Have you ever asked yourself these questions:
Does God hear my prayers?
Does God answer prayers?
Does He hear the prayers of a sinner?
Is He even listening?
How am I supposed to pray?
I don't even know how to pray – how can I pray?
Why pray He never answers my prayers?
These are common questions we ask ourselves or others when we feel that God is not hearing our prayers.  When we are in doubt as to whether we are being heard when we do pray, we question sometimes if God is really there?   The Bible mentions prayer many, many times so it must be important.  A search on Bible gateway for 'pray' returns 362 results, and a search for 'prayer' returns 191 results, and for 'prayers' returns 27 results (in the NASB Version).    The NIV version returns 367 results for 'pray', 154 for 'prayer' and 32 for 'prayers'.  This gives us an indication of how much prayer or praying is discussed in the Old and the New Testament and indicates the high priority of prayer in God's Word.
The Bible tells us to pray 
Philippians 4:6 (NASB) says '6 Be anxious for nothing, but in everything by prayer and supplication with thanksgiving let your requests be made known to God.'
1 Thessalonians 5:16-17 (NASB) says 'Rejoice always; pray without ceasing; give thanks; for this is God's will for you in Christ Jesus.'
Hebrews 4:16 (NASB) says '16 Therefore let us draw near with confidence to the throne of grace, so that we may receive mercy and find grace to help in time of need.'
James 5:16 (NASB) says '16 Therefore, confesss your sins to one another, and pray for one another so that you may be healted. The effective prayer of a righteous man can accomplish much.'
James 5:14 (NASB) says 'Is anyone among you sick?  Then he must call for the elders of the church and they are to pray over him, anointing him with oil in the name of the Lord;'
The Bible tells us how to pray
Jesus told the disciples how to pray in Matthew 6:9-13 (NASB): "Pray, then, in this way: 'Our Father who is in heaven, Hallowed be Your name. 'Your kingdom come. Your will be done, On earth as it is in heaven. 'Give us this day our daily bread. 'And forgive us our debts, as we also have forgiven our debtors. 'And do not lead us into temptation, but deliver us from evil. [ For Yours is the kingdom and the power and the glory forever. Amen.']"
In 1 Timothy 2:1-8 9NASB) Timothy issues a call to prayer: 'First of all, then, I urge that entreaties and prayers, petitions and thanksgivings, be made on behalf of all men, for kings and all who are in authority, so that we may lead a tranquil and quiet life in all godliness and dignity.  This is good and acceptable in the sight of God our Savior, who desires all men to be saved and to come to the knowledge of the truth. For there is one God, andone mediator also between God and men, the man Christ Jesus, who gave Himself as a ransom for all, the testimony given at the proper time. For this I was appointed a preacher and an apostle (I am telling the truth, I am not lying) as a teacher of the Gentiles in faith and truth.
8Therefore I want the men in every place to pray, lifting up holy hands, without wrath and dissension.'
In Matthew 6:6 (NASB) in the Sermon on the Mount, Jesus says: 'But you, when you pray, go into your inner room, close your door and pray to your Father who is in secret, and your Father who sees what is done in secret will reward you.'
John 15:7-8 says 'If you abide in Me, and My words, abide in you, you will ask what you desire and it shall be done for you,'
Jesus is our example.   Jesus prayed to His Father in Heaven!
He prayed the Lord's prayer in Matthew 6:6-14 and Luke 11:1-4. The Lord's prayer is a model prayer for us as to how we are to pray.
He prayed for Himself to be glorified, for His disciples and all future believers and those that already believed, in John 17.  This was also known as His High Priestly Prayer.
He prayed at Lazarus' tomb (John 11:41-45), at His Transfiguration (Luke 9:28-36), and in the Garden of Gethsemane before he was betrayed (Matthew 26:6-46), and He prayed upon the Cross (Matthew 27:46; Luke 23-34, 46)
For believers, prayer should be a natural act
Those who believe in Jesus Christ as their Lord and Savior, should have an active and straight line to the Father through His Son, Jesus.   We should confess our sins daily to Him and ask to always be in His Will.  If we abide in His Word, meaning we read it and study it daily.  We meditate on it day and night as taught in the Scriptures, and we keep Him near our hearts every minute of every day, we have a direct path to Him through prayer every minute of every day.
We should be setting aside time each and every deay to spend with Him. It is so important that we do this.   The busyness of our world is just what the enemy loves to use to distract us and keep us from coming into God's presence every day.  Pray without ceasing means to be in touch with God at every instant!  One of our friends gave us a list of what he called 'breath prayers'.   These are very short phrases that you can lift up to God in an instant and these prayers are blessing to us and to God when we pray them.   They show Him that we know He is right there and all we have to do is reach out to Him.  He is there and He does hear.
Intercessory Prayer
God wants us to pray for others.  We all know people who are not believers and who are lost in this crazy world.  We are expected to pray for these people and their needs on their behalf.  They may never pray on their own.  We should be willing to pray for others when they ask and even when they haven't asked.   We should have a list of those we pray for regularly.
Friends, Family,Co-workers, neighbors, leaders at work, in the church, our government leaders and other workers.  Pray for Israel and the other countries of the world and pray that the Good News of Jesus Christ is being shared around the world so that all those who are unsaved might know Him sooner rather than later!
Pray for the ability to forgive others as He forgave and forgives us.  Wives should pray for their husbands and husbands for their wives.  We should all pray for our children and our grandchildren and great grandchildren (for future generations).
These are just a few of the many things you can pray and should pray regularly.  There is so much to pray about to our Father.   We are so blessed to have a mediator for us who prays for us in Heaven, Jesus Christ, our Lord and Savior!
We are to pray in Christ's Name, Jesus said, 'And whatever you ask in My name, that I will do, that the Father may be glorified in the Son' (John 14:13).  We are not worthy to approach the holy throne of God except through His Son, Jesus Christ!  Praise God that He gave His Son who is our advocate before the Father!
Prayer is Worship
Did you ever think of prayer as being Worship of your Father and of Jesus?  It is!  It shows Him that we love Him and believe in Him and His character and that we know Him for who He is and that we trust in Him for everything.  Prayer should be about adoration, worship, thanksgiving, confession, intercession and last of all your own requests.  Praise God by recognizing His name which corresponds to your needs:
Jehovah-Tsidkenu       The Lord my righteousness
Jehovah-Mekadesh     The Lord who makes me holy
Jehovah-Shalom          The Lord our peace
Jehovah-Rohi                The Lord my shepherd
Jehovah-Shammah      The Lord who is there
Jehovah-Rophe            The Lord who heals
Jehovah-Jireh               The Lord shall provide
Jehovah-Nissi               The Lord our banner
In Summary:
There are many more Scriptures which could be mentioned but the truth is we cannot expect prayers to be answered unless we pray in Faith and we cannot expect and should not desire anything that doesn't meet His Will.
If you are praying for something that doesn't line up with what the Scriptures teach us is His will, you can only expect that that prayer will be answered with a No!
Get your life and your requests in His Will and you will see a changed life!
Please leave a comment below. We welcome your thoughts!
Please note that by submitting a comment you are also consenting for us to store your info from this submittal in our records.
We will not furnish this information to any third parties. It is just stored in case we need to contact you.
Blessings to you all.   To God be the Glory!