Big Truths for Young Hearts: Teaching and Learning the Greatness of God
Big Truths for Young Hearts: Teaching and Learning the Greatness of God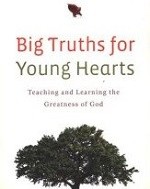 I have not yet read this book, although I am buying it today.   I ran across a review by Dr. Bob Kellemen, (www.rpmministries.org)  and it sounded like a book that would benefit many parents and families who wish to share the love of God and theology with their children.    The review ratings I found indicate it is a very good book as well (5 star ratings).
Title: Big Truths for Young Hearts: Teaching and Learning the Greatness of God
Author: Bruce A. Ware, Ph.D.  (Professor of Christian theology at Southern Baptist Theological Society
Publisher: Crossway (2009)
Category: Parenting, Theology, Discipleship
Per Dr. Bob Kellemen, 'Ware's purpose is to equip parents to raise their children to know and love God through raising them to know and love theology. How sad that such a goal seems so foreign in so many Christian circles today.'
According to the reviewers on various sites, Bruce Ware encourages parents to teach children Systematic Theology at a level they can understand and he helps them through that with this book.  It is so important to teach our children these things early on in their lives.   Most importantly they need to see their parents believing and living out the truths they are teaching.
The book covers ten topics of Systematic Theology with each subject covered in several short chapters allowing parents to cover a chapter per day with their children.  Doing the study with the children the parents will be the primary teachers of faith to their family.  Parents will also learn a few things themselves during the study.
The chapter titles are:
God's Word and God's Own Life
Chapter Two: God As Three in One
Chapter Three: Creator and Ruler of All
Chapter Four: Our Human Nature and Our Sin
Chapter Five: Who Jesus Is
Chapter Six: The Work Jesus Has Done
Chapter Seven: The Holy Spirit
Chapter Eight: Our Great Salvation
Chapter Nine: The Church of Jesus Christ
Chapter Ten: What Will Take Place in the End
From viewing the table of contents online, which you can do as well,  using our link in the picture above, each of the main chapters has subchapters, each about 3 pages long, like a devotional.  Each concluding with Questions for Thought and with Memory Verses.'    He also states 'The book is beautifully written, Bible-saturated, Christ-centered, creatively-illustrated (word-pictures), and theologically-comprehensive.'   He mentions that it would be good to include a Training Manual for Parents with the book.
'And that said, Big Truths for Young Hearts is still a tremendous book for adults, young adults, middle school and high school aged kids. It is an excellent book for parents to explore and apply with their pre-teens and teens. It would make a fine Sunday School book for teachers in grades 5th through Senior Saints! Youth groups, small groups, and homeschooling groups all will find Big Truths for Young Hearts very attractive, informative, and beneficial.'
Based on what I have read from Dr. Kennemen's review as well as several others on several other websites, I am recommending this book and as I mentioned earlier, I am ordering it today and will give my own personal thoughts on it later.
Note: Clicking on the picture of the book above will take you to a site where you may purchase the book. If you buy from this link we will receive a small commission. See our Affiliate Disclosure in the footer of this page.
Please note that by submitting a comment you are also consenting to us storing your info from this submittal in our records. We will not furnish this information to any third parties. It is just stored in case we need to contact you.
Please leave a comment below. We welcome your thoughts! Have a blessed day!