I Don't Have Enough Faith to be a Atheist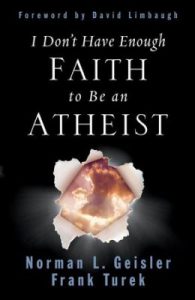 This post is going to be a review of the book by Dr. Norman L. Geisler and Dr. Frank Turek.   It will also be a blog about Apologetics.   I was introduced to Apologetics and to this book a number of years ago when my husband and I took a class on Apologetics at the College of Biblical Studies in Houston, Texas.   This was a semester long class and we were not taking it for credit but for our own knowledge, with no college credit expected.
The word 'Apologetics' immediately causes one to think that a Christian is 'apologizing' for their beliefs just based on the sound of the word.  That is not the case at all.  The word apologetics comes from the Ancient Greek word apologia.  In a trial to deliver an apologia meaning to make an explanation or rebuttal to charges brought against someone or in short to provide a 'defense'.    That is exactly what it means in Christian terms.
In 1 Peter 3:15, Peter says in the ESV translation, 'but in your hearts honor Christ the Lord as holy, always being prepared to make a defense to anyone who asks you for a reason for the hope that is in you; yet do it with gentleness and respect'.  In the NASB it says 'but sanctify Christ as Lord in your hearts, always being ready to make a [defense to everyone who asks you to give an account for the hope that is in you, yet with gentleness and reverence.'