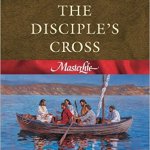 Bible Study Review Details:
Title: The Disciple's Cross (MasterLife Book 1)
Author: Avery T. Willis, Jr. and Kay Moore
Publisher: Lifeway Press, 1996 Original
Category: Bible Study, Discipleship
Reviewed By: Taresa Lutz, Christian blogger, Believer in Jesus Christ  (http://www.standingfirmproducts.com)
Recommended? Highly
What is MasterLife?
My husband and I first ran across this study around 12 years ago at our church.  It was recommended that new believers in Jesus and new members of the church should attend this Bible Study.  It was about three years later that we actually started taking the class and later began to facilitate the class at our church.
MasterLife is a developmental, small-group discipleship process that will help you develop a lifelong, obedient relationship with Christ.  The goal is your discipleship.  For you to become like Christ.
The complete MasterLife study consists of four books.   Each book is a six to seven week study.  Therefore, the entire study consists of approximately 28 weeks of study.  When we lead the class we ask the group to commit to the entire study.