Steps to Peace with God – Billy Graham Evangelistic Tract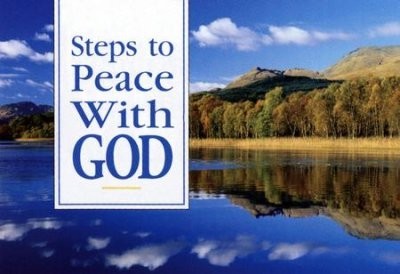 My husband and I have been on the New Member Counselor team with our church for the last ten years.  We were trained on how to witness to unbelievers and to 'lead them to Christ' using this Evangelistic tract.   Many people are confused on what this means and how does saying a single prayer assure one of Salvation and eternal life in heaven with Jesus.
Many don't know this but a man named Charlie Riggs, in a 1954 London Crusade, developed these four steps andttitled them 'Steps to Peace with God'.  Since then, many versions of this have been used and in various forms, in dozens of languages and shared with millions.
In the 1950's the message most heard from the pulpit was teaching Hell, Fire and Damnation and Riggs felt led to present the Gospel from a different perspective.  He had heard Billy Graham preach about peace and life and how to have that peace was to accept Jesus.  He took the message and made it into four steps.
This tract can easily be carried in a woman's purse or a man's wallet or pocket to have readily available to refer to when a conversation arises to walk through the steps with someone.   You can also leave it with the person for them to refer to later.
(From https://billygraham.org/decision-magazine/october-2004/step-one-peace-and-life/)
My goal in this blog is to explain the tract and the pieces of it and then to explain what should follow the prayer.