How to Study Your Bible by Kay Arthur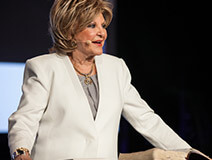 We have been students of Precept-Upon-Precept Bible Studies from Precept Ministries International for many years.  We have learned so much from these studies of which most have been written by Kay Arthur or written by Kay with a co-writer.  Each study includes a Video lecture by Kay Arthur or someone on her staff (many times her son, David Arthur).  In our class we would come to class early and watch Kay's video, and then following that, our teacher would arrive and we would go over the Lesson from our homework and discuss it in depth with the rest of the group.  The method of study is called Inductive Bible Study.
Below is a summary of what is entailed in learning God's Word using this methodology as written by Kay Arthur in her book How to Study Your Bible and Lord, Teach Me to Study the Bible in 28 Days, and through her other Bible Studies and documented on her website. The following info is taken from her books or from the Precept website and includes my own remarks.